Stainless Steel Saws
Hollymatic Saws are competitively priced, high speed, high yield saws that offer significant safety features, including a quick stop brake that stops the blade within one second of shut-off to dramatically reduce risk of injury, as well as safety interlocked doors and double flanged wheels.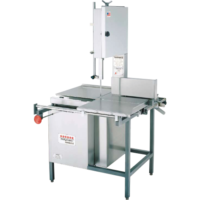 The Hollymatic Hi-Yield 16-5000 represents the new generation of meat saws. It is designed with the end user in mind. It is the easiest saw on the market to clean without complete disassembly. Its uniquely designed soft start ability provides maximum energy efficiency. Its maintenance free braking can stop the blade in one second. The innovative design makes this the right saw for meat, poultry, fish, vegetables and more.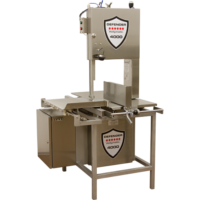 Designed with patented state of the art and innovative technology, the Defender provides features and benefits not available on other meat saws.
The Exclusive Visual Glove Detection System utilizes a camera to detect special colored gloves worn by the operator. Upon detection in a predetermined zone the system activates a processing and braking mechanism to stop the blade in less than .04 seconds, thus greatly reducing unintended or inadvertent contact with the blade.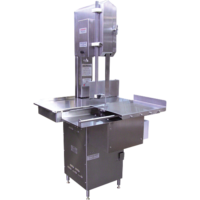 The Hollymatic Hi•Yield 14 has features that separate it from other conventional saws.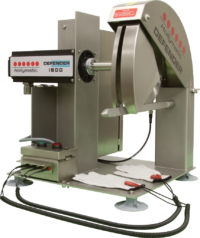 The Defender PC 1500 is designed with patented innovative stopping devices. Special conductive gloves are worn by the operator. In the event that the glove inadvertently comes in contact with the blade, a state-of-the-art electronic braking mechanism will activate, stopping the blade within 15 milliseconds.